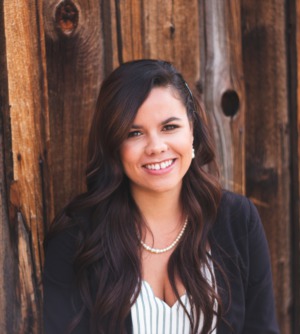 Sage received her Associate's Degree in Business Administration and has an extensive background in banking, financial planning, and Nevada law. With a fresh, new approach to real estate and home buying, Sage is eager to show her clients what she is able to bring to the table while advising them of the best and most financially sound way forward.
Testimonials
We had a fantastic home buying experience with the Craig Team. And I can't say enough about our amazing agent, Sage Foster. We first met Sage when we weren't really serious about buying. We were curious about a house in our neighborhood that was listed, and Sage answered the call to show the house. We let her know that we weren't in any rush to buy. But that didn't deter her in any way. Her professionalism and friendly nature was the perfect combination for my husband and I. We both felt as if we had known her and that she knew us AND our quirky tastes.
Sage stayed in touch with us, emailing us listings that she thought we might be interested in without ever being pushy. On the numerous occasions where we decided to see a house, she always seemed to be available to show. Many showings and multiple offers later, we found THE ONE. Sage helped us every step of the way, navigating the bumps in the road and always communicating and keeping us informed as the process progressed. When we closed on our house and Sage met us to deliver the keys, her genuine happiness for us was evident. Sage is a precious gem of a person.
The extra touches of the weekly status reports to keep everything on track and the care packages to keep us stress free were so appreciated. The Craig Team does customer service right!
Meaghan Maillet
Dear Craig Team,
Sage is an AMAZING young woman who has a big heart and kind ways. She is the BEST Realtor I have ever had the pleasure of working with. Sage helped my daughter and I buy her first home here in Carson City, Nevada and what a beautiful home it is!
Sage was with us every step of the way and found our home super fast. She sent all kinds of gifts too! I have never had that in all the houses I've bought and sold over the years. Sage gave us the courage to get through the process with little to no stress. She was so supportive and treated us like family (I totally believe we are).
Alicia and I Love & Respect you sooooo much, we are so grateful that you are in our lives. If it weren't for you we would be struggling with a "Price Gouging" rental instead of having our own home.
Love Stacy
Stacy420 Love & Light
Sage met with me and discussed what she and her team could do to help sell our house.
We spoke several times on the phone and again when we were ready to sign the listing documents. Sage answered calls immediately or returned my calls in a short time. She was on time and prepared for face to face meetings. Sage was able to answer all our questions. She also helped find professionals to help get the home ready for sale. She provided comps on similar homes that had recently sold and gave guidance selecting a selling price. We decided to list the house for a higher price than I expected with the thought we could we could lower it if we didn't get offers.
On the 1st day of listing Sage had lined up 5 showings and more throughout the week.
At the end of the 1st day Sage called me with 3 offers and explained the pluses and minuses of each one. She also emailed us the offers so we could review them. We accepted a cash offer that was over our asking price.
After the sale Sage and her team kept in touch and kept us informed of the sales progress.
Our experience with Sage and the Craig Realty team was exceptional and I would recommend them to any of my friends and family
John Wren
Sage Foster was an outstanding choice as a realtor, and I am very grateful for all of her hard work. It was my first time selling a property and she was extremely helpful and patient with all of my questions, as well as walking me through the process step by step. My main issue with previous realtors was their slow response rate and I never ran into that with Sage, as she has fantastic communication skills and is incredibly quick to answer any email, text or phone calls. I will definitely be recommending her to everybody I know, and I will be using her services in the future as well. I would rate higher than 5 stars if I could! Thank you so much for selling my house Sage Foster ♥?
Sincerely Taylor Durgan
Taylor Durgan
Sage Foster has been an awesome asset to our hunt for a second property when I first spoke to her I was pretty honest about not being super serious yet and what we are looking for. Even with that said she takes the time out of her day to reach out to me and let me know when something that I might be interested in pops up and is readily available if we would like to see it. I would recommend working with her any day.
Kyle Jarboe
More Testimonials